Why Climb Kilimanjaro with Eco-Africa Climbing?
We are a KPAP Certified Company; We adhere to KPAP standards in our Climbs.

We have the Best Mountain Guides: Wilderness First Responder certified guide.

We are using Quality Camping Gears: All our gears are of International Standards.

Reasonable Price Guaranteed: We are among the few companies providing the best price for ethical Kilimanjaro climbs.

Best Services on the Mountain: We provide 5-stars service on the Mountain.

Easy booking: We charge only $300 per person to reserve your climb using a credit card, and you can pay the balance 30 days before your arrival or by cash upon arrival.

We have the best Mountain Crew: All our Mountain crew are trained to care for our clients during the climb.

All our Climbs are Guaranteed Departure: Even if you are the only one to book the climb, the tour will not cancel.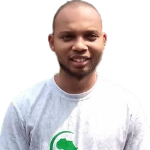 Jambo Everyone, I'm Fredrick Wilbert. Let me help you get to the top of Kilimanjaro the ethical way!